Benjamin Hill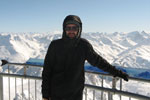 I have been a carpenter / joiner for 12 years. It has always been something that has interested me since visiting the joiners shop under my father's office when I was a child; the smell and being knee deep in shanvings with the wood burner in the corner. Something know my daughter might remember when she is older!
Woodworking, architecture and furniture design are a really big part of my life and I fell incredibly fortunate to be able to do the job I do. I hope this comes across in my work!
When not in the workshop I like to spend time with my wife and daughter, walk are two crazy dogs that come to the workshop on "quiet" days ! and occasionally get a chance to surf and windsurf.